What We Find
Sullivan's Crossing #1
Robyn Carr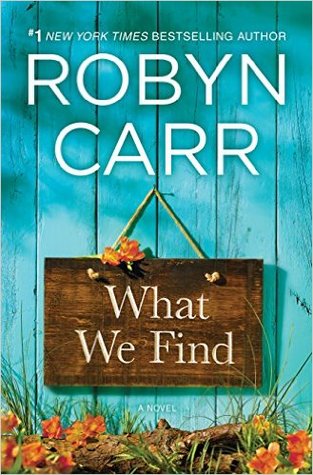 Maggie Sullivan is burned out. She's a highly respected neurosurgeron who is battling law suits, family drama, and the death of a patient when she looses her baby through a miscarriage. Her boyfriend is less than comforting and dumps her because she's being depressing. Maggie pulls up stakes and heads to her father's campground - Sullivan's Crossing. There she encounters the relaxed life she'd been searching for and has time for some introspection on the direction she wants to go from here. Her father Sully and a camper Cal play a large part in her decisions.
I feel like this book could be summed up in one word - nice. It wasn't suspenseful, super romantic, hardly any drama, and had an incredibly sweet, but predictable ending. The characters were all individual and multi-faceted, but not earth shattering. It was hard to get buried into the book, but it flowed nicely and would make a good beach read. Overall, this wasn't something I'd re-read, but it provided a nice escape from the summer heat. I liked it, but didn't love it.
I received this book free of charge from Goodreads in exchange for my honest review.