Back in the Saddle
Double S Ranch Book 1
Ruth Logan Herne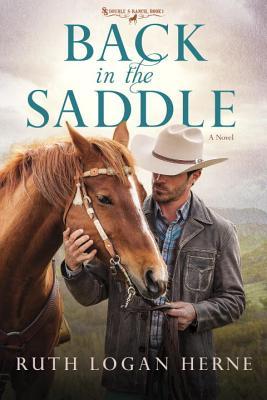 Colt left his ranch home years ago with a very strained connection to his father. Now he's returning with his tail between his legs due to some stock market upsets. His father is ill and Colt feels like it's time to come home. But he's positive that there won't be any fence mending. His father is too hard for that. But it isn't his father that meets him at the door of his childhood home. It's a beautiful woman holding a gun. Angelina is the house manager and hasn't met Colt, but she has heard of his reputation and isn't impressed. Changes have come to the entire Double S Ranch. Now the family and employees must learn to move with the changes or be left behind.
I'll be honest, the first few chapters of the book did not pull me in. I couldn't connect and was really wishing I could stop. But for some reason about a fourth of the way in, it grabbed me and kept me for the rest of the book. I finished wishing the second book in the series was already out. The author did a great job of setting the scene so the reader could picture the landscape, family drama, town relationships, and growing romance that made up the book. While it took a while, the characters grew on me and I liked their authenticity and faith. The characters deal with some really tough issues and handled them with grace, at least most of the time. I liked how the author didn't sugar coat real problems, but had the characters working them out with faith and grit. The importance of family is really emphasized and the overall theme of faith and trust in God is throughout the story. Overall, this was an enjoyable story by a new to me author and I look forward to reading more of her work.
I received this book free of charge from Litfuse Publicity in exchange for my honest review.