The Cactus Creek Challenge
Erica Vetsch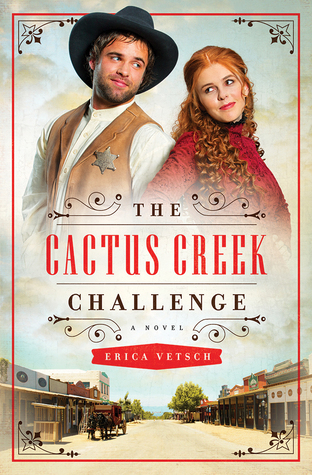 Every year the small town of Cactus Creek has a challenge. Two men change jobs for a month and the town votes on the one who performs his task the best. The winner puts the money that the town donates towards something the town needs, such as a new pump or books for the school. But this year the committee has decided to switch things up and allows women to enter for the first time. The night of the drawing the contestants find they are in for another surprise. Now a tiny slip of a girl is the new sheriff and a livery owner is the new baker. Things can't possibly go right for any of the contestants.
I'll be honest, I wasn't looking forward to picking up this book based on the description on the back. It just didn't appeal to me. But I'm so glad I finally did. I laughed the entire way through the book. These poor people just couldn't get things right and the results were hilarious. The sayings that the author threw in were a bonus for sure. The four couples find peace in their lives and also unexpected romance. The reader is watching four people, their families, and two romances playing out amid a devious plot by some thieves. I really enjoyed this book and would highly recommend it.
I received this book free of charge from Barbour Publishing in exchange for my honest review.