No Other Will Do
Karen Witemeyer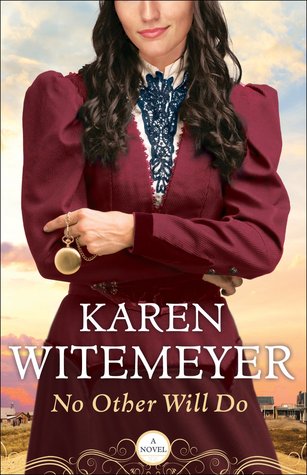 Emma and her aunts purchased a ghost town called Harper's Station. They designed the town to be a woman's colony for women who need a fresh start away from poverty or abuse. Everyone works to support the town and share their resources. Emma, who owns the bank, provides loans to aid the women in becoming independent. Now an anonymous person is targeting their town with death threats, fire, and bullets. Emma calls the only person she knows who can help. Malachi left years ago, but told his friend Emma to call if she ever needed help. Now Emma and Harper's Station need him to come track down a dangerous man.

This book is one of those books that's just fun. The characters were all entertaining. The romance, while a bit steamy for a Christian fiction, was sweet. The setting and concept for the story was different and I enjoyed seeing how it played out. There is some suspense in the plot due to the person targeting the town. I am looking forward to the next books in the series.
I received this book free of charge from Bethany House in exchange for my honest review.