Small-Town Brides Romance Collection
9 Romances Develop Under the Watchful Eyes of Neighbors
Janet Barton, Susan Downs, Darlene Franklin, Pamela Griffin,
Kelly Hake, Debby Mayne, Donita Paul, Kathleen Y'Barbo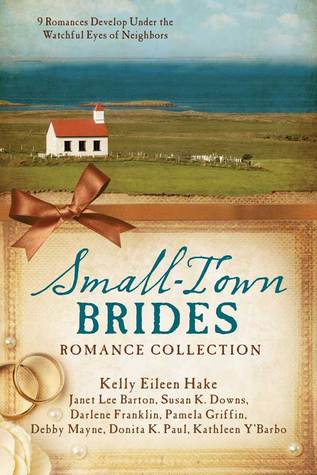 Nine authors write romantic stories in historical settings. The first three stories are connected. But the remaining stories are not. Each story can be read as a stand-alone and is mainly connected to the others by the theme of small town love stories. The authors did a great job of staying with the theme, incorporating faith, forgiveness, christian love, and trust into their stories. Each one has romance, friendship, and love.
I enjoyed each story, a few more than others. These are the types of stories that give you insight into an author's writing style. They are great for when you only have a short time to read or want something different from what you normally read. Overall, I would recommend this to anyone who is looking for a new author, wants some clean, Christian romance, or is short on time.
I received this book free of charge from NetGalley in exchange for my honest review.