For Better or Worse
The Wedding Belles #2
Lauren Layne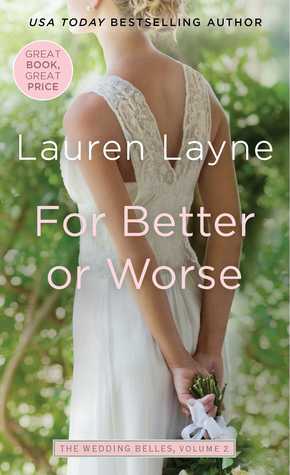 Heather, a small town girl, has always dreamed of working and living in New York City. As soon as she graduated from college she moved to her dream city. Now in an apartment in the prime location, she has one last goal before achieving her dream. She must get everything perfect with this next wedding so she can move from assistant to a bonafide wedding planner. But there is one tiny problem - her new neighbor, Josh, is in a band and refuses to stop playing his music in the middle of the night. If Heather can't get her sleep, she might mess up the wedding of the year.

This story started out with lots of fun and kept the pace up the entire book. There were some serious moments, but the feel of the book for me was fun and romance. The author did a great job of creating tension between the two main characters. They both meshed well together, making for a believable spark of chemistry. I liked how she tied in the other members of The Wedding Belles so we could get a glimpse into what was happening since we last read about them. This was a good addition to the series and I can't wait to read the next one.
I received this book free of charge from Simon and Schuster in exchange for my honest review.