The Wood's Edge
The Pathfinders Book 1
Lori Benton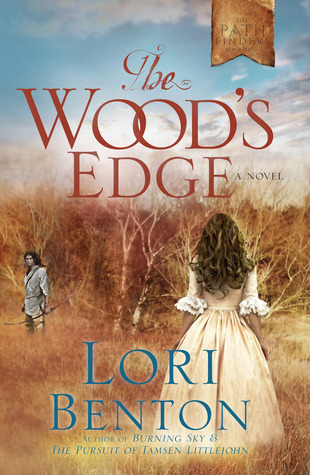 A split second decision changes the course for two different families. During a moment of weakness Reginald exchanges his dead child for a living one. Both mothers are sleeping and Reginald sees the other mother, a white woman raised Indian, lying there with her twin sons. One is dark like his father and one is fair like his mother. Reginald prays that his wife and the other mother won't notice the switch since the babies are so young. But Good Voice notices that her baby has been switched and connects the dots. Her husband, Stone Thrower, will want revenge for his missing son. Two families are hopelessly intertwined. Two brothers are missing each other.
This author is able to weave a plot so full of details and history that it makes the story come alive. Twists in the story keep the reader in suspense and make the plot richer. I have yet to read something by this author that doesn't reach in and touch my heart. The emotions of the characters are real and heartfelt. The history that the author mixes liberally with the fiction makes me feel like I'm a part of the time period. Sometimes, especially during the middle of the book, I felt a bit bogged down in the details. But I'm sure this won't be a problem for most people. The story ended well and I'm glad I read it.


I received this book free of charge from Blogging for Books in exchange for my honest review.