Summer's List
Anita Higman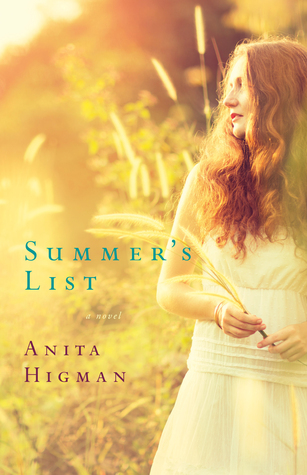 Summer has an unselfish heart. She quit college to take care of her parents after their accident. Now she's running her grandmother's book store. After breaking up with her boyfriend she heads over to her grandmothers to talk. But Granny has some news of her own. She's dying and she wants Summer to complete a list for her. Up until now Summer has been there for everyone else. Granny hopes that by completing this list, Summer will realize what she wants to do with her life. The first thing on Summer's list is reconnecting with a childhood friend.
This was an unusual book. The premise is great. A bucket list to find out what you want to be when you grow up, given by a wise elderly lady. Perfect, right?! But the dialogue was so awkward and stiff. So much of the story was so implausible that it felt wrong. The story was sweet and a tad cheesy. The romance, while very rushed, was nice. There wasn't really much of a plot, just lots of dialogue and descriptions. Overall, my impression was okay, but not great.
I received this book free of charge from Litfuse Publicity in exchange for my honest review.