An Inconvenient Beauty
Hawthorne House #4
Kristi Ann Hunter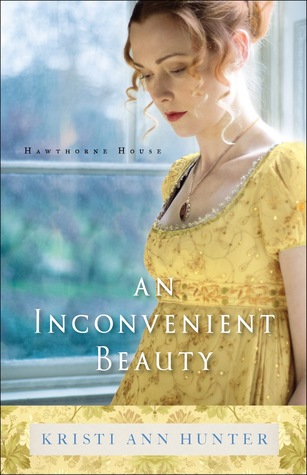 Griffith is a logical, orderly duke. He's taken care of his family and runs his estate with care and levelheadedness. So this is his approach to marriage. He has decided to logically chose a wife who will suit him and isn't too pretty. Pretty women tend to cause trouble and chase attention. Griffith is not interested in a beauty. So he's rather disturbed when the woman he has chosen has a gorgeous cousin he can't get out of his mind. Isabella is a beauty. And she's using this to her advantage. She needs to do her uncle's bidding so that he will consent to help her family. She has no intention of actually finding a man to marry. So what happens when two people who are right for each other fall in love?

I'm a fan of this author so I was excited to get my hands on this book. The author has once again written a book that captured my attention and kept me until the very last page. I'll admit that it wasn't my favorite, but it was still good. The plot was unexpected and that is a refreshing change. The author writes clean romance with a bit of drama and intrigue thrown in. There is a very small element of faith, but it isn't obvious and doesn't really play into the story much until the end. I really liked some of the characters - the cousin, the duke, his family. I wasn't crazy about the uncle or Isabella. I felt that they weren't fitting with what the author was trying to say. And Isabella was a bit dense when it came to working out her situation. Did I enjoy this book? Absolutely! Was it my favorite? No. Will I read this author again? Absolutely! I wanted more romance and faith elements. Could have done without a lot of the drama with the uncle and the duke. Overall, this was a very entertaining and sweet story that lovers of romance and historical fiction will enjoy.
I received a copy of this book from Bethany House. All thoughts expressed are my own.