Abandoned Faith
Alex McFarland and Jason Jimenez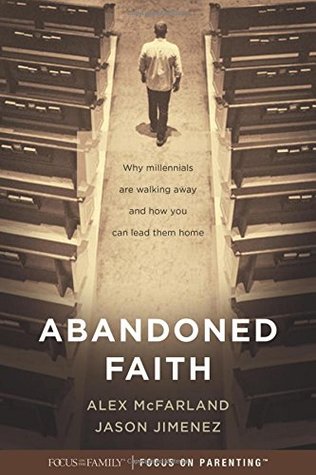 The lack of millennials in the church and the abandoned faith that parents are witnessing in their children is alarming. The authors write with the parents of millennials in mind. They talks about why they are leaving their faith, how to strengthen or rebuild a relationship with them, and how to engage and bring them back to the faith. Lots of research and advice from other experts in the field are included in the book.
I do not have children who are millennials. However, I have noticed them missing from our church. It seems the kids graduate high school and college and disappear. We've discussed this in our small group multiple times. So I was interested to see what the authors had to say. While not the intended audience, I was able to glean quite a few gems from the book and it gave me a lot of things to ponder. There were a few points theologically that I didn't agree with. But the overall message is sound and I think would be extremely helpful to anyone who is involved in their church, has an absent millennial, or wants to prevent their children from abandoning their faith thin the future.
I received this book from Goodreads. All thoughts expressed are my own.