The Lassoed by Marriage Romance Collection
Mary Connealy, Angela Bell, Angela Breidenback, Lisa Carter, Rebecca Jepson, Amy Lillard, Gina Welborn, Kathleen Y'Barbo, Rose Zediker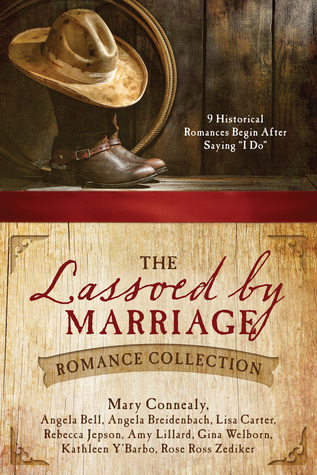 Each of these stories begins with the marriage. But love follows shortly after. In all nine stories the couple is lassoed into marriage without the benefit of courtship or often on just a limited acquaintance. But each couple finds the common thread of faith and commitment which soon develops into love.
I'm a pushover for a good marriage of convenience story. Combine that with some big name authors and I knew I was going to enjoy this book. I wasn't disappointed. Each author brought a different style of writing and perspective to the table. But each story hit high in regards to enjoyable plot, lovable characters, faith themes, and sweet romance. Nine stories is quite a bit to put in one book, but since they can be read as stand-alones, I was able to put the book down and come back without any interruption to the book. I would recommend this book to anyone who enjoys romance, Christian fiction, and well written novellas.
I received this book free of charge from NetGalley in exchange for my honest review.