A Refuge at Highland Hall
Edwardian Brides Book 3
Carrie Turansky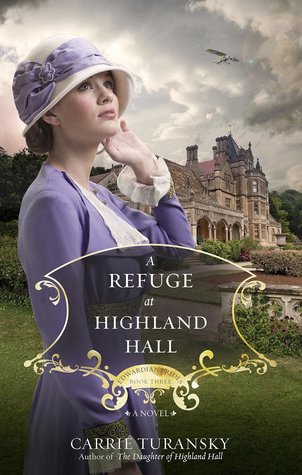 Penny Ramsey is aiding in the war efforts by welcoming orphans with her sister and brother-in-law to Highland Hall. But her war efforts pale when she sees Alex, a pilot in the Royal Naval Air Service. Penny knew Alex from years ago and connects with him again. When Alex leaves for the war Penny writes to him and their friendship deepens.
It took a little bit for me to get into the book. But once I connected with the story it moved quickly. The characters were fun and engaging. The author did a great job of setting the scenes and weaving in the secondary characters. Several times I had to go back and check which characters I was supposed to be reading about. By the time I got to the 3rd book there were quite a few people to keep up with. I've read each of these books as they are published so there is some time in between. I think this might be what caused my confusion. Overall, it was a good series that I enjoyed reading. But I would recommend reading them closer together so the characters and setting is more familiar.
I received this book free of charge from Blogging for Books in exchange for my honest review.