Chance of Loving You
Terri Blackstock, Candace Calvert, Susan May Warren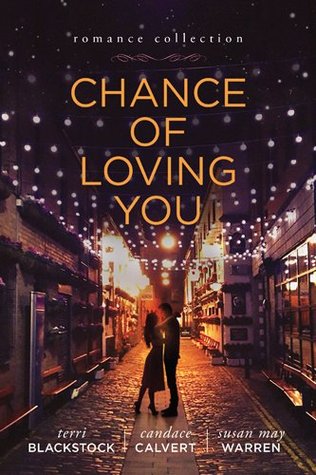 Three authors tell the story of three young women who receive a chance at happiness and run the risk of losing the love of their life. Each story can be read as a stand-alone, but ties together with the title. The authors use sweet, clean romance to tell a faith filled story about trust and love.
I've read and enjoyed books by all of these authors so was excited to read this book. The Recipe by Calvert was my favorite. The characters were likable, the romance didn't feel rushed, and there were some sweet side elements. The one by Blackstock felt a little cheesy and I didn't like either of the two characters. It was a decent story, but not one I'd base this authors writing on. She's written some great books. Warren used a setting from a series she has written, but the reader doesn't need to be familiar with it for this story. I enjoyed the story, but it wasn't my favorite. Overall, this was a nice diversion and I enjoyed the book. If you enjoy novellas and want a book with clean Christian romance then you'll enjoy this book.


I received this book free of charge from Tyndale in exchange for my honest review.