A Name Unknown
Roseanna M. White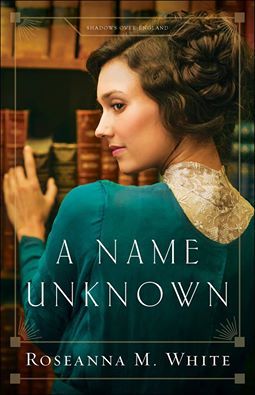 Rosemary's family consists of street orphans who have banded together to make a home. They keep bread on their table by stealing and doing odd jobs for people in low places. Rosemary is offered a job that will keep food on the table for quite some time. She just needs to pass off being a librarian to a titled gentleman in order to find out where his loyalties lie. As the world erupts into the chaos that becomes WWI, Rosemary finds herself in the dusty confines of a country library, trying to find out if Peter Holstein is what he claims to be.
This book was a very mixed bag for me. It started out painfully slow and I just couldn't get invested into the characters or the plot. It was obviously well written and researched. The main characters stood out and were well defined. I especially liked the character Peter. So I'm not sure what my problem was. But about 1/3 of the way through the book it picked up and I became more interested. The Christian aspect of the book was so subtle that it was almost lost. The romance wasn't really there until the end, and then it was sweet and romantic. I really enjoyed how the book ended. And the middle was good too. But throughout the book were some slow parts or a plethora of details that bogged the story down a bit. The history was super fascinating, and for me made the story. So overall, I would recommend this book if you enjoy historical fiction with intrigue and a tiny bit of romance and don't mind a story with a ton of details and sidelines.
I received a copy of this book from Litfuse. All thoughts expressed are my own.