My Heart Belongs in Fort Bliss, Texas
Priscilla's Reveille
Erica Vetsch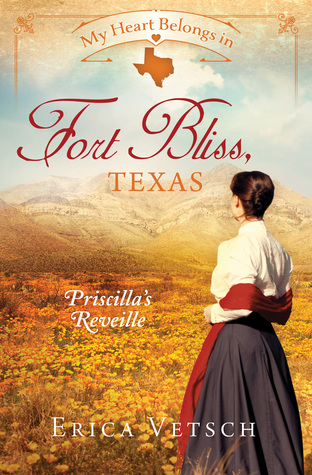 Priscilla, a fashion artist, hates the military for taking her father and ruining her mother. So she's not exactly pleased when her brother joins the army. She hasn't seen him in years when she receives notification that he and his wife have passed away. She heads to Fort Bliss to get the niece and nephew that she's never met. But she meets resistance from their uncle, her late sister-in-law's brother. He's the local physician and loves the children dearly. He has no intention of letting them leave with a woman they've never met. Sparks fly as they both insist on being their guardian.
I really enjoyed this story. The characters were well defined and likable. The two little children were precious. The author did a great job of creating drama without setting the reader's mind against the two main characters. The scenery jumped off the page and helped the story come alive. The faith, importance of family, and sweet romances that were entwined in the plot made the whole thing come together beautifully. This is an author that is quickly becoming a favorite with every book of hers that I read. I would recommend this book if you enjoy clean romance, historical fiction, or a fun plot.
I received a copy of this book from Barbour Publishing. All thoughts expressed are my own.