The Gift of Rest
Crickett Keeth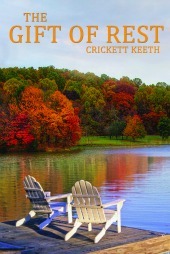 God knew what he was doing when he created a day of rest. Our bodies are designed to work and then recharge. But today so many people are rushing around frantically trying to fit everything in. And they never seem to take a rest to recharge themselves. The author has created an eight week Bible study to show us the gift of rest that God has given us. Each week takes a different aspect of rest and wraps the daily study around it. Each chapter has four sections - Looking to God's Word, Looking Upward, Looking Reflectively, and Looking Deeper. Scripture texts, thoughts from the author and other Christian authors, and a well laid out plan make this an interactive and thought provoking study.
I enjoyed this book. There were a few things that I felt were off a bit in the theology. But that aside, the book was well laid out and presented the topic in a clear, concise, and logical manner. The book isn't large, but if taken one day at a time will leave the reader with a knowledge of how God intends to bless us through rest. This would make a great gift or would work well in a small group setting.
I received this book free of charge from BookCrash in exchange for my honest review.