Cravings
Recipes for All the Food You Want to Eat
Chrissy Teigen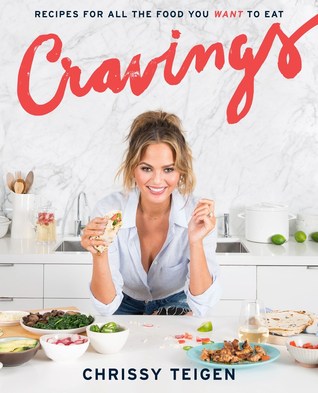 Chrissy Teigen, a model and celebrity, has a deep love for food. She filled this book with all of her favorite foods that she enjoys not only cooking, but eating as well. The book is peppered with witty comments, pictures of delicious food, glimpses into her life and family, and amazingly easy to execute recipes. The one thing this book doesn't have is desserts. Chrissy isn't a baker and so only put the things that she enjoys cooking into the book. Since she's a world traveler, there is a large variety of food packed into the cook book.

First, I had no idea who Chrissy Teigen was when I picked up this book. I just love cookbooks. But after reading every page, I fell in love with her wit and her delicious recipes. This girl is hilarious. Even if you never intend to cook, the book is worth the price just for the funny things she says before each recipe. But the recipes are truly great. I've made a couple and they are delicious. And you don't need to be a great cook, since most of them are very easy to do. My overall opinion - amazing cookbook, hilarious notes, gorgeous pictures - totally worth every penny.

I received this book free of charge from Blogging for Book in exchange for my honest review.