Kissed by a Cowboy
Four of Hearts Ranch Book 3
Debra Clopton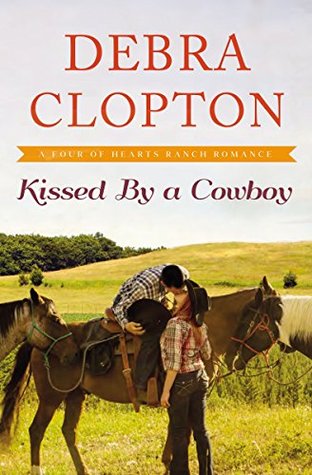 Cassidy is back in Wishing Springs after a horrible divorce. She's inherited her aunt's home and farm and plans to run an organic farm along with a bed and breakfast. She's determined to be single for the rest of her life and enjoy her business. But her neighbor and childhood friend, Jarrod keeps popping up to help her. Throw in some match making town people, cattle thieves, and an injured dog and Cassidy is having a hard time sticking to her ground rules.
This was a really sweet story. It was nice to reconnect with the characters from the previous books, but the book would also work well as a stand-alone. The romance was clean, and fit well with the characters. The characters, while flawed, had depth and faith. The author does a great job of setting the scene and pulling in the characters from town. The plot has several themes going, but it isn't confusing or cluttered. I liked how the author wove in a message of faith, forgiveness, and trust. I really enjoyed this third book in the series and based on a couple of things left open, I hope to continue to enjoy more books as well. I would recommend this book to anyone who enjoys a clean romance or Christian fiction.
I received this book free of charge from Litfuse Publicity in exchange for my honest review.