Fatal Frost
Nancy Mehl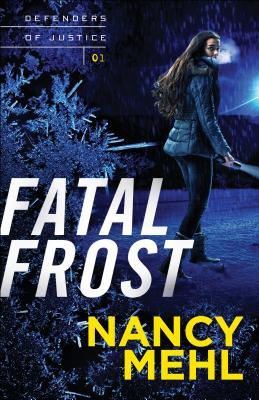 Although Mercy is law enforcement like her father, she wants nothing to do with him. But when she's put into a gang force unit, she comes back in contact with her dad. Right before his death he supposedly gave her something. But Mercy has no idea what he might have given her. Now the gangs are after her and she must join forces with a US Marshal to find out why the gang thinks she has this information. Small problem, this US Marshall is also her ex-boyfriend.
This was one of those books that the reader is thrust into the action from the very beginning and swept into the story. There is non-stop drama and action. The romance between the two main characters was sweet. The faith aspects were strong and woven throughout the story. Those were the positives. And if I was only judging the book on the way it drew me in and had me rushing through the book, I would give it a 5 stars. But the cons were a bit too in my face. I really had the sense that the author was pushing her own opinions and agenda with this book. There was a part in the beginning of the book that mirrored an actual event that was probably prominent in the news while the author was writing the story. It was very clear what side the author was on, based on the outcome of the episode. This felt incredibly in my face. Also the "good" guys were so "perfect" that I couldn't relate to them at all. It was as if they were the writer's ideal version of what a Christian should be. So while the story drew me in and captured my attention, these things brought the overall experience down for me. I've read this author's books before and loved them. So I think it was just this book. If you like action and adventure with clean romance that have very strong spiritual notes and a conservative view than you will fall in love with this story.
I received a copy of this book from Bethany House. All thoughts expressed are my own.