Classified Christmas Mission
Wrangler's Corner #4
Lynette Eason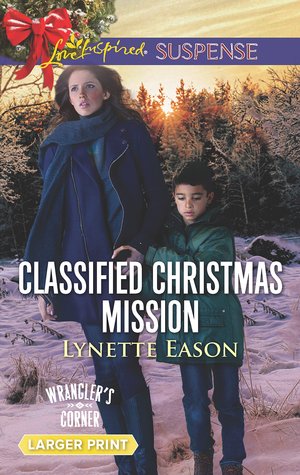 Amber, a CIA agent, is on the run from a murder. She has Sam, the special needs child of her friend. The problem is that Sam knows something and his father will kill to get Sam back. Sam runs to the only place she knows she'll be safe - home. But as she's navigating a snow storm just miles from home, she's run off the road by someone who is shooting at her. And when Deputy Lance arrives at the scene of the accident, Amber convinces him to help her evade the killer until she can figure out what it is he's after. She has no idea she's going to accidentally involve her entire family.
This was a fast paced book full of suspense and drama. The addition of a special needs child was well done and I thought the author did a great job of addressing the subject of autism and the special needs and concerns that a child with this might encounter. The book had a little bit of romance, but was mostly about the murderer and Amber taking his child. This book is in a series. While it would have been nice to know the story behind a few of the other characters, I didn't feel like I needed to read them to fully enjoy this story. Overall, I really liked this book and how the author put everything together. Readers of suspense, clean romance, or Christian fiction will definitely enjoy this book.
I received this book from NetGalley. All opinions expressed are my own.