Together at the Table
Two Blue Doors Book 3
Hillary Manton Lodge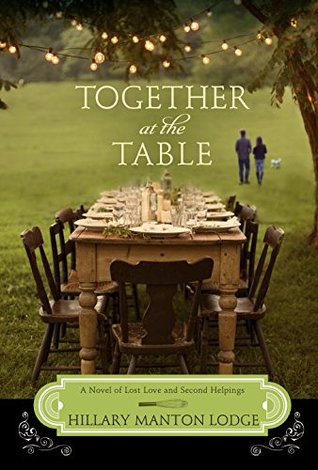 Juliette is struggling with her mom's cancer, the opening of Two Blue Doors, her long distance relationship with Neil, and the family secrets that her grandmother kept. So when she is confronted with some uncomfortable truths, she reacts in a way that will affect her for quite some time. Now it's time to get her priorities straight and figure out what she really truly wants out of life. Doing this is incredibly hard, but worth it in the end.
This is the final book in the series (at least I'm assuming) and the perfect ending to a wonderful foodie fiction. I'm not a foodie, but I absolutely loved this element. The recipes at the end of the chapters, not only fit with the story, but were delicious. The story isn't a stand-alone, but was the wonderful conclusion to a story I've been relishing from the beginning. The author is gifted with presenting someone that is relatable, flawed, and delightful. Each of the characters fit so well with the plot and the main characters in the story. While the ending wasn't really what I was expecting, it was the perfect ending. I look forward to reading more by this author. Her writing is truly gifted. Can't beat these gorgeous covers either.
I received this book free of charge from Blogging for Books in exchange for my honest review.