At Love's Bidding
Ozark Mountain Romance Book 2
Regina Jennings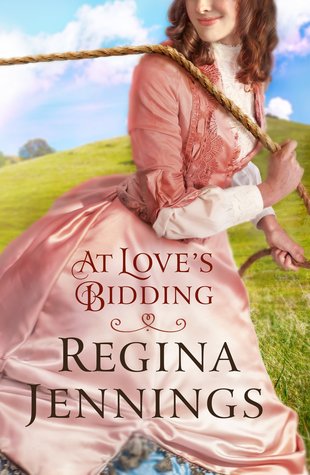 Miranda works with her family at their auction house in Boston. They sell high end items and Miranda writes the catalog with detailed descriptions for each item. As she's walking through the back of the action house she sees a painting on the auction block that is definitely not what is described in the catalog. But she's been timid her entire life and fears her grandfather's anger if she steps in and interrupts. But she soon learns her mistake when the LeBlanc family comes after the auction house with their lawyer. They have a short window to find the painting that was wrongly sold or their auction house will be shut down. They purchase another auction house where they believe the painting was headed to. Miranda and her grandfather board a train headed to the Ozarks in pursuit of the painting. But life is full of curve balls and Miranda is dismayed to find out that they auction house they bought doesn't deal in antiquities. And her grandfather seems to be loosing his mind.
I liked the story. It was full of twists and turns that didn't turn out the way I expected. I also expected a little bit more about the character's faith since this is labeled as Christian fiction. The main characters were well thought out and fit well with the story. But my favorite was actually a secondary character named Betsy. She really added to the plot and the uniqueness of the town. Overall, it was a fun, slightly romantic story, but didn't have any gripping drama or deep faith connection.
I received this book free of charge from Litfuse Publicity in exchange for my honest review.