Hearts Entwined
A Historical Romance Novella Collection
Karen Witemeyer, Mary Connealy, Regina Jennings, Melissa Jagears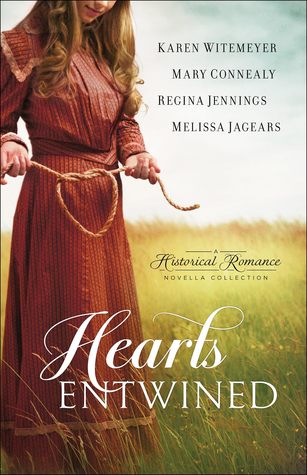 The path to love isn't always easy. Sometimes it comes with hardships and unexpected surprises. Follow these four couples as they learn that sometimes love is worth the risk and potential heartache. Each story is written as a stand-alone and is only tied with the other novellas based on the theme of historical romance. Each author uses a character or two from a series, but the series is not essential to understanding the story.
I really enjoyed this book. These four authors are on my favorites list and I've read the all of the series they pulled their characters from. So it was nice to get another little glimpse into what was happening. Each author brought her own style and flair to her novella and made it her own. I had a favorite, but loved all of them. I would definitely recommend this book if you enjoy historical romance, want to find a new favorite author, or want to meet characters from your favorite series.
I received a copy of this book from Bethany House. All thoughts expressed are my own.