Holding the Fort
Fort Reno #1
Regina Jennings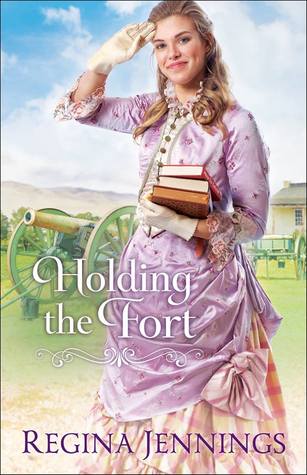 Louisa is a dance hall singer. When she receives a letter that her brother is in prison at the army fort, she worries about his reckless behavior. When she's fired from her job, she decides to head to the fort to save her brother from himself. Due to a huge miscommunication she's now working as a governess for two wild little girls. And their father, Daniel, is as full of secrets as she is.
This was a fun book. The plot was well thought out and while predictable in its romance, it was also full of surprises and tiny twists. The characters were well written and I enjoyed the several of the secondary characters as much as the main ones. I think the romantic parts were well written for the time period and fit well with the story. I wasn't as fond of Louisa as I would have liked to be, but I think Daniel made up for it. I really liked his character. Overall, it was a fun book to read, just don't expect depth, this isn't one of those books. I look forward to reading the next book in the series.
I received a copy of this book from Bethany House. All thoughts expressed are my own.