Want Ad Wedding
Cowboy Creek Series
Cheryl St. John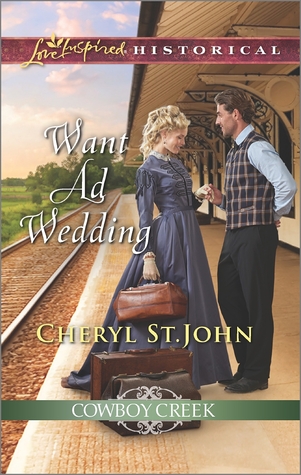 Daniel and his two friends have helped start the little town of Cowboy Creek. So when they want the town to grow, they send off for four mail-order brides to help grow the families of the town. They plan to start small and order more if the first four work out. Daniel is in for a shock when he sees his childhood friend step off the train. Leah is now a pregnant widow with no family to help her. She was desperate enough to answer the ad, but a marriage of convenience with her friend Daniel might be the perfect safety net for her and her unborn child.
This was a sweet, well written story. The characters had depth and were engaging. I liked the back story that the author gave the two main characters. She also set several people up to be the main characters in the next book. The secondary characters were interesting as well and added to the whole plot. Overall, it was a sweet, clean romance with just a little drama that I enjoyed reading.
I received this book free of charge from NetGalley in exchange for my honest review.