A Chance At Forever
Teaville Moral Society #3
Melissa Jagears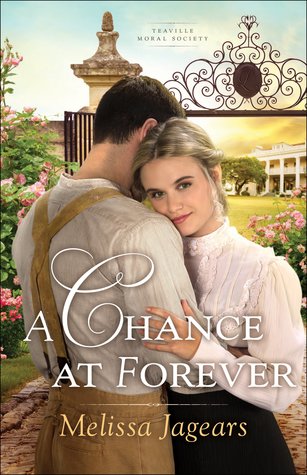 Mercy grew up in Teaville and suffered a lot of bullying because of her missing hand. But the worst bully of all was a boy named George. Mercy is now an adult and serving on the local school board when a teacher, named Aaron, applies for a position. She recognizes him as her childhood bully. Aaron claims to have changed, but Mercy is going to have to see evidence to believe him. When Aaron takes a summer job with her employer she's given the opportunity to observe him up close and isn't conflicted on what she sees.
This was my favorite by this author. I've enjoyed all of her books, but for some reason this one really spoke to me. The author did a great job of creating the tension and drama that the characters needed to develop. The two main characters, while flawed, were relate-able and engaging. And I fell in love with a couple of the orphans that were part of the story. There were a couple of sensitive topics that the author handled really well and the beauty of forgiveness and the ability to change by God's grace was so sweet and inspiring. The relationship between the several of characters was wholesome and romantic. Really enjoyed this story and can't wait to read the author's next book.
I received a copy of this book. All thoughts expressed are my own.